Keri is situated on the Southwest side of the island and is 15 klm from the city of Zakynthos and 12 klm from the Airport.
Referred to by Herodotus it is an area that combines the sea, pine forests, valleys and streams.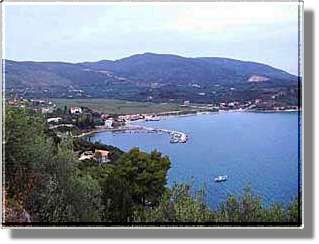 Keri was many times in the past, the target of pirates and conquerors.
The people of the village over the years have been humble farmers, fishermen, woodcutters and shepherds who struggled with the land, with poverty and the difficulties which existed in all the seasons. At the same time they developed many cultural values; their love of song, dance and music is renowned and popular theater or 'Speeches" another name for street theater, were enjoyed by the entire village. There also developed groups of wonderfully harmonious street singers.
Tradition and culture blossomed alongside the natural beauty and with this came tourism which today makes Keri one of the highest quality tourist destinations on the island as it combines all the desirable elements of nature, tradition and culture.
Most of the businesses are family run thus giving a chance to the visitor to come into contact with the local culture.
Come and experience Easter at Keri with centuries old traditions and its beautifully kept church which is of historical importance.
Come and visit the village in May and see for yourself the astonishing variety of wild flowers.
Come and visit in summer and swim in the turquoise waters or take a trip to the Keri Caves. If you have a boat, come and tie up at our beautiful natural harbour and if you don't, let one of our experienced captains take you on a trip around our fascinating coast, rich in geological wonders.
Come in September and join us in the wine making.
Come in October and see how we make the famous Zakynthos olive oil. To try our local specialities and enjoy our hospitality.
Come and enjoy the underwater world at the two Diving centres.
Come and see the famous Herodotus Spring and the magical odyssey of the sea turtle Caretta-Caretta as she makes her way back to the island of her birth, after 40 years, to give birth to a new generation on the sandy beaches in the bay of Lagana.
Come and see the sunset from the Keri Lighthouse... walk in the pine forests. Every one of your days here will bring something new to experience and enjoy.