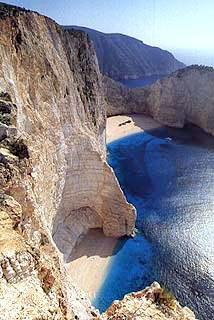 ... When the ferry arrives at the port, especially at dusk, it feels as though you enter the port of Venice. On the one side you will see the lit church bells of the St. Dennis Cathedral and on the other side the picturesque Main Town with the snake like road to the hill of Bohali (2km) and the Venetian Fortress(3km). The view of the port and the town from above is simply breathtaking and even more enjoyable when you are seated at one of the many open air cafes or local tavernas.

In Town you may stroll at the historic St. Mark's Square and visit the Solomos & Kalvos Museum which is also their Mausoleum. There are kept original artifacts of the island's gentry along with their seals. At the nearby Solomos Square with all the neoclassical buildings you may visit the Byzantine Museum and marvel at the old icons and frescoes that survived from the medieval churches which did not survive the disastrous earthquake of 1953.

On Zakynthos you will find the mountain villages and those of the plains besides those by the sea-side. In between the sharp edged rocks, the white sand and the turquoise water bays the Caretta-Caretta sea-turtles find refuge to reproduce. The beaches of Lagana(8km) and Geraka(17km) are welcoming them every year when they come out at night to lay their eggs.

The mountain villages (Keri, Lithakia, Maherado, Koiliomeno) are famous for their true Zakynthian hospitality and you will surely enjoy the local gastronomy and unsurpassed wine tradition. Local dishes, cheases, cold meat cuts and the special sweets but most of all the semi-dry wine (mastelado) of the area will stay with you for a long time. Sgantzeto, pantseta, ladotyri, chiromeri, mantolato & pasteli are some of their names you must remember when coming.
The Monasteries is another point of interest that should not be forgotten. There history and worship along with the special Zakynthian way of chanting will lift you to another dimension. Frescoes, old icons make the simplicity of the Nuns & the Monks regal.

On this island everything is different, the musical stories sang at the tavernas, the historic wineries, the stalactite & the blue caves, the sight of the "ship wreck" sunk in the sand now, the cave of St. Damian and so much more you must explore for yourself.



"Reparo" in the local dialect means either resting or relaxing, a meaning that on this island has another dimension,
just remember that if you come once you will certainly come again!


---
---